---
Journal title
Jurnal Transformasi : Jurnal Pengembangan Pendidikan Non-Formal Informal
Synopsis
Jurnal Pengembangan Pendidikan Non-Formal Informal
Initials
JTNI
Abbreviation

j. transformasi. j. pengembangan. pendidikan. non-formal informal



Frequency
2 issues per year (maret and september)

DOI
Prefix 10.33394 by

P-ISSN

E-ISSN

Editor-in-chief
Kholisussa'di
Publisher

Program Studi Pendidikan Luar Sekolah, Fakultas Ilmu Pendidikan dan Psikologi, UNDIKMA

Indexed
Google Scholar / Garuda
---
Jurnal Transformasi (JTNI) : Jurnal Pengembangan Pendidikan Non-Formal Informal is scientific journal published by Program StudI Pendidikan Luar Sekolah, Fakultas Ilmu Pendidikan dan Psikologi (FIPP) Universitas Pendidikan Mandalika (UNDIKMA). It has been published since 2016 with ISSN: 2442-5842 (Print) E-ISSN: 2962-9306 (Online). JTNI contains scientific articles from research and critical review in Education, Teaching and Learning which include : Educationl Non Formal Informal, Community Education. JTNI is available for free (open access) to all readers.
Please read this guideline carefully! Every manuscript sent to the editorial office of the journal ought to follow the writing guidelines. If the manuscript does not meet with the author guidelines or any manuscript written in a different format, the article will BE REJECTED before further review. Only submitted manuscripts that meet the journal's format will be processed further.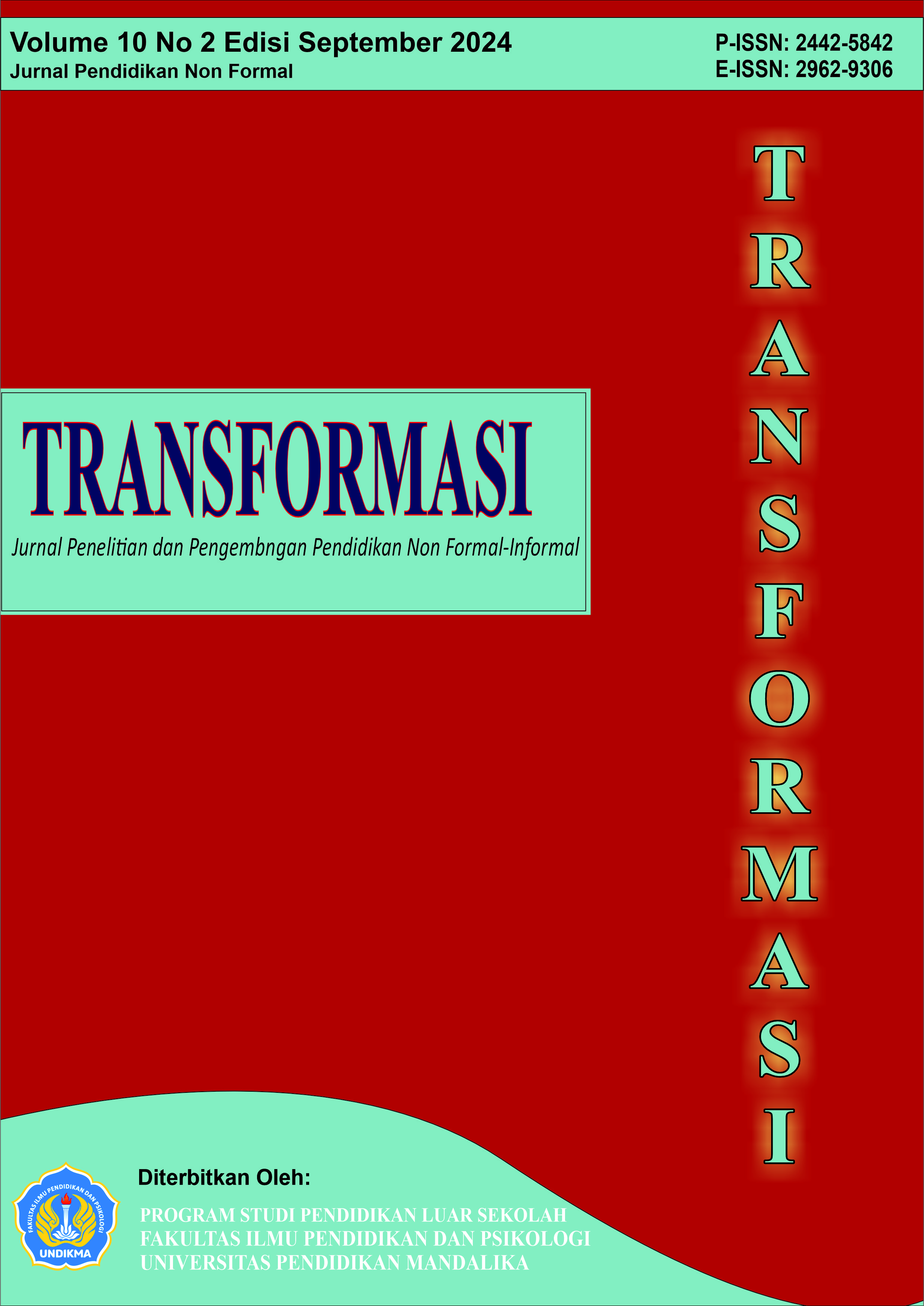 Announcements
CALL PAPER

Dear Author,

We are always welcome to submit their manuscripts for publication consideration. The authors to submit their papers in our journal are required to use the template file, the link of which is given in the article template section. The papers which are not transformed in our template file and do not follow the format will not be taken into account for editorial process. Articles received will be peer-double blind review.

 

Posted: 2023-05-29
More...
Vol 9, No 2 (2023): Volume 9 Nomor 2 Edisi September 2023
Table of Contents
Articles