---
| | |
| --- | --- |
| Journal title | Prisma Sains: Jurnal Pengkajian Ilmu dan Pembelajaran Matematika dan IPA IKIP Mataram |
| Initials | J-PS |
| Abbreviation | J. Prisma. Sains. Pembelajaran. Matematika. IPA |
| Frequency | 2 issues per year (june and december) |
| DOI | Prefix 10.33394 by |
| ISSN | 2540-7899 (Print) | 2338-4530 (Online) |
| Editor-in-chief | Muhammad Asy'ari |
| Publisher | Universitas Pendidikan Mandalika (UNDIKMA) |
| Indexed | Sinta | Google Scholar | DOAJ |
---
This journal has been
ACCREDITED
by
National Journal Accreditation (ARJUNA)
Managed by
Ministry of Research, Technology, and Higher Education, Republic Indonesia
with
Third Grade (Peringkat 3, Sinta 3)
since year
2017 to 2021.
Prisma Sains: Jurnal Pengkajian Ilmu dan Pembelajaran Matematika dan IPA IKIP Mataram [p-ISSN 2338-4530 | e-ISSN 2540-7899] was first published in June 2013 by Faculty of Mathematics and Science Education IKIP Mataram and managed by Science and Mathematics Education Studies Center (PKPSM) IKIP Mataram. This journal publishes a scientific paper on the results of the study and review of the literature.
The scope of this journal includes, but is not limited to:
Education
Assessment and Evaluation
Curriculum Development
Distance Learning
Higher-Order Thinking
Learning Resources
Models of Teaching
Teacher Professional Development
Learning and Cognitive Style
Sports Science and Education
Character Building
Art and Educational Linguistics
Mathematics, Biology, Physics, Chemistry, and Natural Science
Natural and Applied Science
Biological sciences
Biodiversity
Biotechnology
Chemistry
Environmental sciences
Physics
Mathematics
Engineering
Science Studies
Business, Management, and Accounting
Social Science
Economic and Finance
Nursing
Multidiciplinary in Science Studies
On October 10, 2019, the merger of
IKIP Mataram
and
University of West Nusa Tenggara
into
Mandalika University of Education (UNDIKMA)
caused a change in the name of the publisher of this journal which was originally
Faculty of Mathematics and Science Education IKIP Mataram
into
Faculty of Science, Engineering, and Applied Science.
Please read this guideline carefully. Every manuscript sent to the editorial office of the journal ought to follow the writing guidelines. If the manuscript does not meet with the author guidelines or any manuscript written in a different format, the article
will BE REJECTED
before further review. Only submitted manuscripts that meet the journal's format will be processed further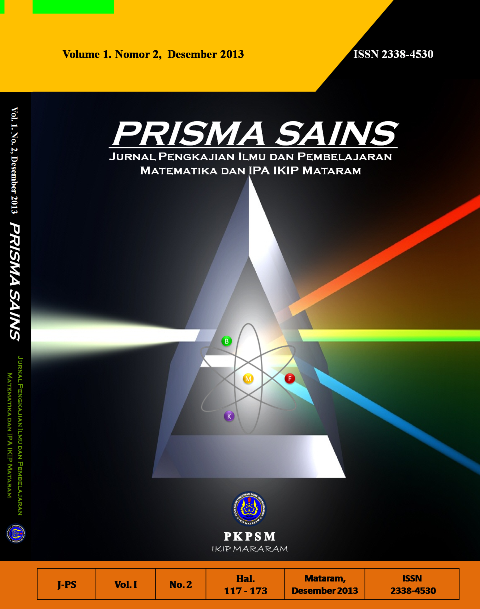 Announcements
Call for Papers!!!

We invite you to submit your paper to Prisma Sains: Jurnal Pengkajian Ilmu dan Pembelajaran Matematika dan IPA IKIP Mataram
Posted: 2021-01-12
Vol 9, No 2: December 2021
List of Accepted Papers
Table of Contents
Research Articles