Initials

Abbreviation

Grade

Frequency

DOI

Editor in Chief

Associate Editor

E-Mail

Publisher

Citation Analysis

Indexing

BJIB

Bioscientist. Jurnal. Ilmiah. Biologi

SINTA 3 by RISTEK-BRIN No. 85/M/KPT/2020

2 Issues per Year (June and December)

Prefix 10.33394 by Crossref

Agus Muliadi

Safnowandi & Sri Nopita Primawati

Mandalika University of Education

Google Scholar

SINTA; GARUDA; EBSCO; ISJD Neo; BASE; ROAD; indonesia onE Search.
Bioscientist is a scientific journal that presents original articles about research knowledge and information or the application of the latest research and development in the field of Biology Education and Biology. This journal is a means of publication and a place to share relevant scientific information and its development. Published since June 2013. The journal is managed by the Department of Biology Education, Faculty of Applied Science and Engineering, Mandalika University of Education. On October 10, 2019, IKIP Mataram and University of West Nusa Tenggara merged and changed into the Mandalika University of Education.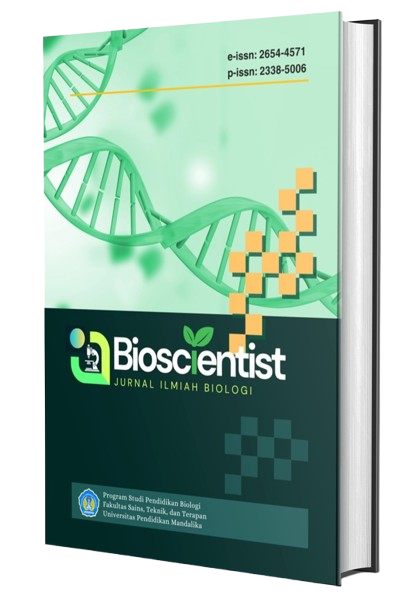 Announcements
CALL FOR PAPER

Volume 9, Number 2, December 2021

Deadline for Submission of Articles to be Published in December, 30 October.

Posted: 2021-05-23
More...
Vol 9, No 1 (2021): June
Table of Contents
Articles